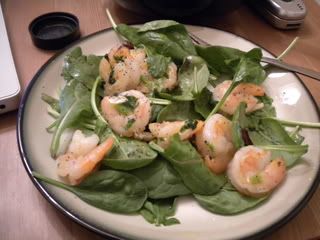 Hey Guys,
I came up with an idea tonight while I was making myself dinner. I finally had the house to myself tonight...sometimes dinner time with 5 other people living here can be a very crazy thing. I was lucky enough to experiment a little tonight. I have been sick the past few days, (no it's not swine flu, I assure you I am fine)....and I have been trying to eat a lot of raw vegetables in order to boost my immune system!
So as I was cooking I came up with this idea, that every time I come up with a cool recipe , I am going to blog it and tell you how I made it. This way you can try it yourself at home. It doesn't really take much effort to throw some shit in a pan and fry it up...all you need are some taste buds and a little instinct. So throw away your ramen, craft mac n cheese, cambell's and chef boyardee... Yes I do get lazy sumtimes, but fresh food is always better for you.....So here we go!
The first recipe I would like to bring to you guys is my Shrimp and Spinach Salad. Shrimp is probably my most favorite food in the world! Now I might've gotten my inspiration from Applebee's, but mine is homemade, and I added my own personal spin... and my dressing is like WAY better :-X
What you'll need:
Fresh or packaged Baby Spinach (organic is optional)
Fresh or packaged Shrimp ( i used packaged and freeze it, cuz it lasts longer)
Fresh Parsley (it is essential that this is fresh, because that is where a lot of the flavor comes from!)
Extra Virgin Olive Oil
White Cooking Wine
One small clove of Garlic
Sea Salt
Black Pepper
Lemon (Optional)
Prepping:
1. First take your shrimp ( a handful is enough for one serving), and peel the skins off if they are still on. If it's frozen, just run it under warm water.... not hot, cuz you don't want it to cook in your hand...that's kinda creepy... After they are thawed and you take the shells off, set them aside in a bowl or something. Dispose of the shells, or put them under your annoying room mate's pillow, it's completely up to you....
2. Take your fresh parsley (one sprig is enough for one serving) , and wash it if it is not already. Then grab a cutting board and a sharp knife (watch your phalanges and make sure your cheating boyfriend isn't around) and chop your parsley almost fine.
3. Get your one clove of garlic out and peel the skins off. Then chop your garlic fine as well.
4. If you are using a lemon, get that out now! Roll it on your cutting board to get the juices going (that's what she said) ...sorry I had to....
Then just cut the lemon in half, set that aside for now...
5. Take out your uncooked baby spinach(a handful or two, is enough for one serving),. You can also used baby spinach mixed with other leafy greens like mediterranean style lettuce. Wash that if you need to. Set it on a small plate, do not add dressing! You will be using the juices from the frying pan as your salad dressing.
Ok now comes the fun ! :-)
Wolfgang Puck that shit:
1. Grab a small frying pan, and set the heat to low. Coat the bottom of your pan with your extra virgin olive oil and let that heat up a bit. Once that looks like it's a -sizzlin', throw in your chopped gah-lic. Once that starts smellin amazing, you know it's time to add your main ingredients before the garlic starts to brown ( you DONT want your garlic to brown, that means it's burnt.)
2. Throw in your shrimp, and add a splash of your white cooking wine (one capful should do). Also add a pinch of seasalt, and black pepper at this point. You can also add your chopped parsley now.
3. By the time you have added the wine, salt, pepper, and parsley, the first side of the shrimp should start turning pink so you want to stir that up a bit now. Cover the pan with a lid, make sure the heat is medium to low, and let that steam a bit.
4. Get your plate of fresh raw baby spinach salad at this point! By the time you get your plate and get back to the stove, your shrimp should be done. Shrimp cooks fast... Make sure no shrimp appears clear or blue still. If all appears pink and cooked, it is time to serve!!
5. Take the small sauce pan, and just dump that good shrimp goodness onto your salad! Make sure all the juices from the pan don't go to waste, this is your dressing!
Give that a light tossing.
Optional
6. Take your lemon half, and just give it a little squirt over your salad for some tang. Also add additional black pepper for more of a zest. And there you have it ! My homemade , last minute, thrown together lovely spinach salad!
I did eat the whole thing...minus the one shrimp that didn't make it from the pan to the plate and fell on the floor. Fredo was a happy pup :-p
ENJOY!!!!!
-Justina xoxo