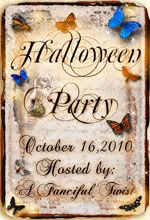 Hello Lovelies ! First of all, if you haven't already checked out all of the other lovely posts, please visit Vanessa's lovely page
HERE
!!
Now on to my party !! Since I am still in the middle of my party prep for this year ( My real life Halloween party will be held October 30) , I decided for my party dedicated to A Fanciful Twist, I will post my party pictures from last year.
Come in!!! We welcome you to the Splended Spooktacular!! Don't mind that shadow in the doorway, he's just our Butler , Mr. Fun Ghoul
Last year Avi and I decided on being the Mad Hatter and the Queen of Hearts... His version of the Mad Hatter was inspired from Tim Burton's Alice in Wonderland movie, while my Queen of Hearts was more obscure and randomly conjured up. I even made the crown from scratch out of floral wire, felt and lace, and hot glue...
At our party, we had an assortment of spooky foods !!
Avi made his lovely eyeball caprese out of tomato slices with mozzarella balls and olives...
I made my famous "Deviled Eggs" with little triangular red pepper slices to act as devil horns...
Here is my mom's famous "Intestine of Goat" pasta salad with curly pasta , cherried tomatoes, and broccoli...
Here the Fun Ghouls pass around some more spooky h'orderves
Here is Aunt Fifi's famous Boo Punch !!
Mummy Dogs anyone? Avi worked so hard on making them !
My mom's famous Graveyard Special (bean dip) , and my Brain's Patte (Shrimp Dip)
The Fun Ghouls drink some "True Blood"
Some Ghouls have fun !
Some Witches conjure up a wicked spell !!
Bobbing for Apples Time !!
DESSERT TIME !
A Justina imposter poses with the Fun Ghouls
We hope you had fun! But it is almost daylight and the ghouls must retire !
We hope you had a spooktacular time!!
Here is a video of some live footage !
Well that is all I have for you right now, my lovely little ghouls !!
Tricks and Treats !