Hello Lovelies!!
First of all, If you haven't already, please visit the lovely
Wendy's Blog
and her Adventure's in Wonderland ! She is the genius behind the Spooky Monday event that has been going on the past month or so, and she has given me such an incentive to actually be inspired by my favorite time of year! So please give her blog a visit when you can!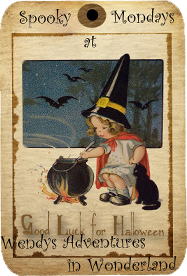 I am so sorry I am a little late on my Spooky Monday post today, but trust me , it was well worth the wait, because I have some lovely treats for you today :-)
I did some more shopping, and decorating!! I hit up Party City last Friday for some glittery creepy cutouts to give my kitchen an extra spooky flair this year !!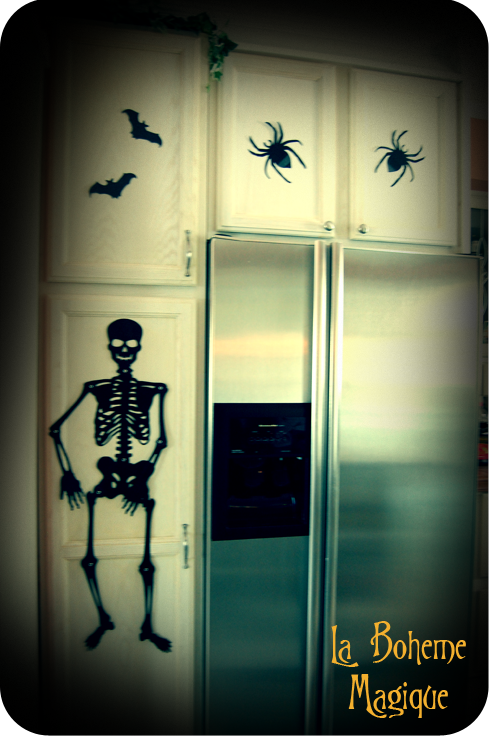 I also decided to do the chandelier again, it was a real hit last year! All that I did, was wrap some scrap black fabric netting around it, and held in place with some black twist ties... This year I added a bit more to it! I threaded some dangly spider rings and hung from the arms of the chandelier.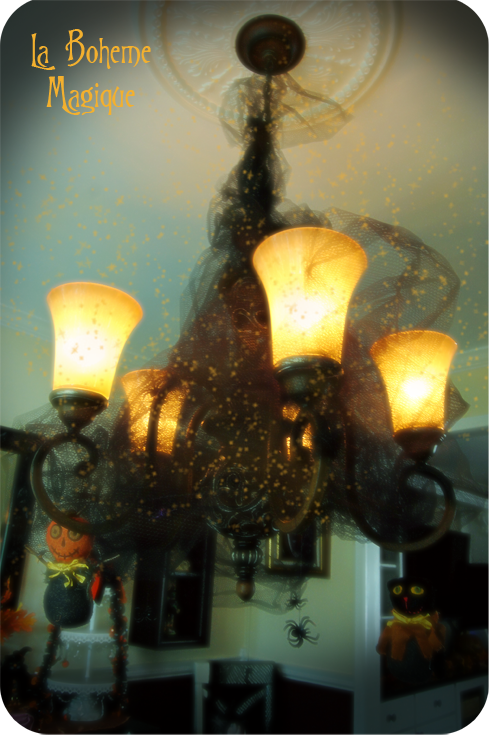 I then added some cute stuffed pumpkin and black cat ornaments , and completed the netting with spooky glittery spiders from Party City...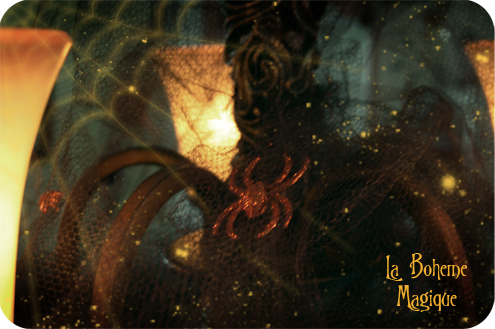 I gave my Bailey's, Averno, and blank wine bottle a ghoulish makeover with these labels, I also bought from Party City!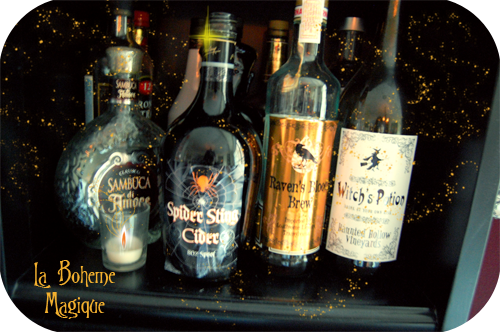 What do you know! It's time for lunch!! How bout a nice bowl of Witch's Stew (homemade chickarina soup, courtesy of my dad) , with a Tim Burton inspired whimsical swirly iron spoon!
Oh boy, I'm sure getting thirsty! How bout some vampire's blood on ice , in my brand new
Sandra Magsamen
Kitty Kat mug I purchased at Walmart at the regular price of $5.00!! What a steal ! They also had witches and pumpkins! So hurry and get your Sandra Magsamen Halloween mugs before the season is over ! On the back it says "Eat, Drink, and Be Scary" teehee! :-) They all said different things ...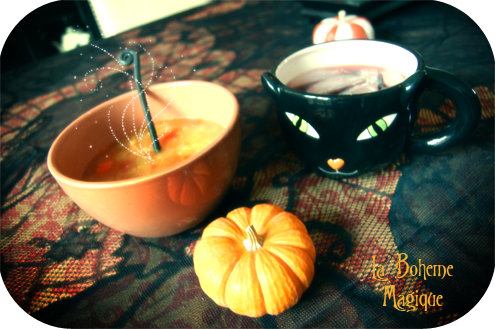 So today was a very Spooky Day at school... I probably have never mentioned this before, but I am a pre school music teacher. So today with my kids, I did a bunch of Halloween activities. We counted Pumpkins, and Bats, and we also sang a little song about the fall leaves :
"Little Leaves"
(sung to the tune of "London Bridge")
Little leaves fall gently down
gently down , gently down
Little leaves fall gently down
Red, Yellow, Orange & Brown
Whirling whirling all around
All around, all around
Whirling Whirling all around
Quietly without a sound...
Falling softly to the ground
To the ground, to the ground
Falling softly to the ground
Down, down , down...
We also sang a song "Itty Bitty Bat" written by my company
Sing a Song
, which is really cute
too! We also played "Pass the Pumpkin", kinda like Hot Potato, but instead of being out when the music stops , I reward every kiddie a Halloween Sticker !!
Check out this adorable roll of 228 Halloween stickers I bought from Target for $1.99!!
Oh and by the way , check out my Jack & Sally shirt :-) , they're my fave !!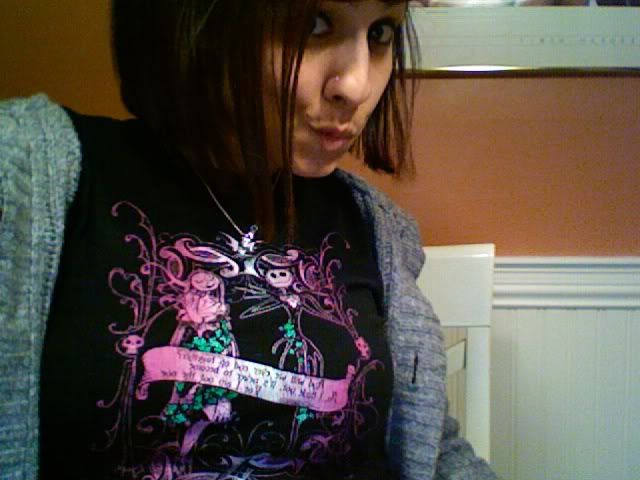 So after my class today, I decided to take a mini detour to Target because I was on the hunt for some Pumpkin Spice tea... Well I didn't find Pumpkin Spice tea... But I DID find an amazing new discovery!!
Lipton's Vanilla Caramel Truffle !! OMG !!! It is sooooo yummy!! They come in these little clear pyramid cloth tea bags, and you can see the small caramel shavings in the bags , which melt when you pour in the hot water! Add a splash of milk , and a dollop of sugar for the best taste!! It is also good over ice :-)
I also bought a really cute dress from Xhiliration, it is black , with grey lace straps and grey lace design on the front... I will post some pics when I feel like trying it on to model it :-)
Well in closing, I leave you with what I had started watching lastnight, and I will try to finish tonight! Here's to Elvira, and the amazing 80s !