I hope your winter season has treated you well. I know I have been missing in action once again, but this winter was definitely a hardship in it of itself . I was sick for a majority of a December & January and it was just not fun. Flu, upper respiratory infection, you name it, I had it. I had rid mysef of my illness finally around mid to late January , but then my grandmother, who had been sick for a few months at this point, had taken a turn for the worse.
My mom was back and forth from North Carolina a lot, and I think my body and mind took a turn for the worst. My anxieties and fears were heightened, I had tingling sensations in my limbs, I lost a lot of sleep, had at least a few panic attacks a day. It was a lot for me to handle. On top of that , my hours at work had been cut , I lost a few schools which effected my paycheck tremendously , had no health insurance... it was just a very depressing couple of months.
Come February, my mom had come back from taking care of my grandmother in NC, and the morning after my mother got back, my grandmother had passed on. As much as I hate to say it, when she passed, it felt like a huge weight had been lifted off of my shoulders. I was just happy that she was finally at peace, and is now in heaven with my nana and pop pop. I just want to thank all the friends and family who supported me through that tough time. It means so much to me...
In Loving Memory of Joan E. LaSpata
May 19, 1938 - February 13, 2012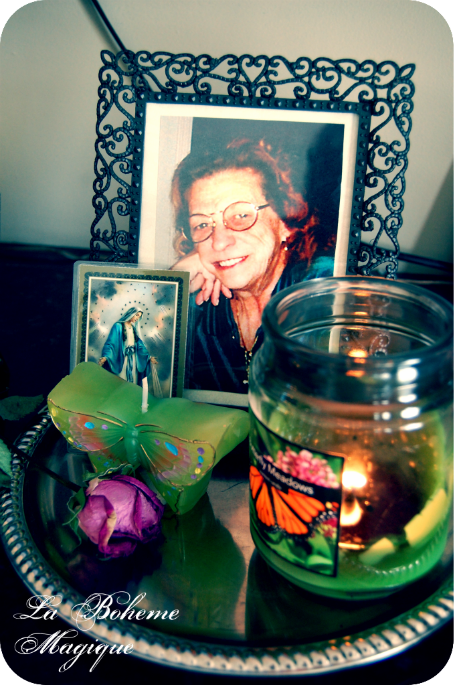 Rest in Peace Grandma, Love you Forever my Butterfly Angel <3...
Most of February and March was kind of a rebuilding period for me. I picked up more hours at work, started at a few new schools which helped out tremendously! My mom is helping me pay for my own health insurance, I've been working on my Etsy store products!! Don't think I have forgotten! This is a mission I will conquer! I am determined to get my store up and running, even if it takes me a little longer than planned. Life is funny, it always throws you some curve balls, and sometimes things get put off... but you just gotta get back on the horse and keep riding! My friend Marie had started school, so she became too busy to help me out with my store, but my mother found out about Etsy, and she is super excited to be helping me out run my store, and she is even going to help me out by creating some up-cycled candles to sell in the shop!
Here are some of the products I've been working super hard on!!!
My bed is my factory... and a
mess...
My materials , felt, mason jars, glass beads...
All of the glass beads are hand stitched one by one, onto soft felt cookies...
My beautiful bead color scheme for my Citrus Summer Cookies...
Cutting out my cookie circles , and prepping for beading...
Here is how they look, once they're beaded ...
Citrus Summer cookies, with matching Lid Fabric underneath :-)
They are then placed into Mason Jars for packaging...
Here is how they look in the jars ... Strawberry Sugar
Cookie on the left, and Citrus Summer on the right
The next post I do will cover the Jar Lids :-)
If you have any requests on what kind of cookies I should make, please share! I would love to hear input... So far I have made the

Strawberry Sugar Cookies

,

Citrus

Summer

,

Christmas Gingerbread

, and

Chocolate Chip Cookies

! These are perfect for a make believe game of Tea Time!!