I also want to thank all of the friends I have made over the past few months, just by writing here, and surfing other blogs! You have all inspired me to stop being lazy and make the most out of my creativity! So I really appreciate it, and I look forward to making more and more friends on here!! Thank you Everyone !
So now as part of the rules of receiving this award, I am to now sum up my blogging motivation, philosophy, and experience using 5 words, and then pass the award on to 5 more blogs who I feel have real substance. So here goes !
My blogging motivation, philosophy, and experience can best be described in 5 words as:
Truth, Beauty, Freedom, Love...
and Magic....
Here are 5 blogs who I feel deserve this award of substance !!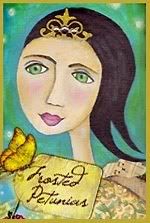 You're blog , pastel colored, whimsical and creative ... It caught my eye as soon as I clicked on your link to view your tea party! We have a lot in common , and I am so glad that we made friends, and now we our hosting our first blog party together !!
I love that your blog is everything rolled into one: Music, Art, Crafts, Photography, Food, Nature, Animals, and just Life and all of it's simple enjoyments! You really do enjoy the simple things in life ! We really do have a lot in common! Must be a Jersey Girl thing :-D
You are the epitome of the Bohemian Lifestyle! I love your little apartment on Venice Beach (it reminds me of the time I spend in LA), and ur decor and bright colors are everything I aspire to be as a Bohemian.... Also I love your other side blogs with your
artwork
, and
blog backgrounds
that you make! My blog looks so beautifully partly because of you !! Thank you so much for sharing your creations with us !
You never hesitate to help out a fellow blogger!! Your blog backgrounds are so beautiful and colorful! Thank you for all of your help with layout tips, and also the coding that you have made for me for my blog button! All your help is much appreciated !!
Your little cottage in the Catskills is every girl's dream! You are proof that it is possible to live in a little fairytale of your own... we create the world we live in! I am seeing your little cottage everywhere I turn, it seems ! You inspire me to create my own living fairytale... maybe one day I will! Thank you for sharing your space with us !
Honorable Mention:
I fell in love with your little dolls IMMEDIATELY... ever since I was a little girl, my mother told me bedtime stories about how my dolls would come to life while I was sleeping , and how I would shrink down like them, and live in their world until I woke up. Your dolls remind me of those stories, they seem to live in their own little world, and they have their own little parties and puppet shows... They always look like they're having so much fun! Thank you for sharing their little adventures with us !!
Ok Guys, there are my 5 Blogs with Substance Awards! If you have been selected and would like to pass on your own awards,
please do the following:
The rules of this award are as follows:
Thank the one who sent it your way
Sum up your blogging motivation, philosophy, and experience using 5 words
Pass it on to 5 others who blogs who you feel have real substance.
Again, a HUGE thanks to Adventures of the Striped Stockings! And congrats to all of my award recipients! It was so hard to choose, as I have so many favorite blogs !
Have fun passing this on !!